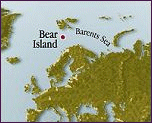 Bear Island is almost an illusion: now you see it, now you don't. Years ago, trading ships on their way to Spitsbergen could skirt the fog shrouded island without setting eyes on it. Others, less fortunate, driven ashore by artic storms or poor navigation drowned or became arctic castaways! In these instances the island became a terrifying reality.
BEAR ISLAND will be published by IK as part of the Nordic Traveller's series. It is the story of an isolated arctic island - exploration, people, culture and nature. The book has been written by Dag Hagenæs Kjelldahl, one of the few one-time residents of the island. His interest in the island, its history and nature, encouraged him to write about the island in the early 1970s, the resulting book was published in Norway in 1973. However, Dag Hagenæs Kjelldahl's interest in the island did not die with the publication and he continued to search through libraries, archives and museums for more information about this remote island in the Arctic Ocean.
It is possible that Bear Island was first discovered by Vikings, but the first documented observations were written by the Dutchman Willem Barentsz in 1596. Although many naturalists, explorers, fortune hunters, seamen, whalers and soldiers have since added to the island's dramatic history, Bear Island is still one of the least visited islands in the northern hemisphere - a place where the forces of nature rule! Through this new publication, Dag Hagenæs Kjelldahl's knowledge and understanding of this unique environment is now available to an international audience. It is through these pages that we are able to meet and face this fascinating world, its unique culture and natural history - this is an important document.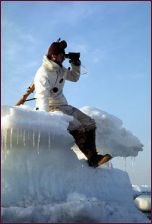 The book, which is illustrated with photographs, fold-out map and literature references.

THE AUTHOR
Dag Hagenæs Kjelldal was born in Norway in 1947. He has a background in aviation, teaching and museums. Today he lives in Whitby, an old seaport in North Yorkshire in the UK. It is from here that he writes, carries out his research and helps to establish and develop centres devoted to science.