WELCOME TO

THE IK SHOP

ORDERING & SHIPPING




HOW TO ORDER?

Ordering is easy and safe with payments powered by PayPal - follow these four simple steps.


| | |
| --- | --- |
| | Browse for the item(s) you would like to order. |
| | Add item(s) to your shopping basket. |
| | Click "Order Now" to continue to the checkout. |
| | Click "Pay Now" and enter our secure payment area, choose to pay using your card or your PayPal account. |


CHOOSE A WAY TO PAY - By Card or by PayPal account.

Our secure payment server at the PayPal Inc., is one of the world's best Internet prepayment systems. PayPal encrypts all of your personal information, including card number, name, and address, so that it cannot be read as the information travels over the Internet. If you prefer to pay with your PayPal Account you are welcome to do so, it is one of the most secure ways to pay online as you don't need to enter your card details at any stage during the transaction.





THE IK SHOP accepts payment with the following cards - VISA, MasterCard, Maestro and American Express.


ALTERNATIVE METHODS OF PAYMENT
If you do not wish to pay on-line you can write to THE IK SHOP with your order details (Credit card details/Cheques or bank drafts should be made payable to 'The IK Foundation & Company' and be drawn on a UK bank) and send it to either:


| | | |
| --- | --- | --- |
| | | FAX: +44 (0)1947 811 999 |
| | | |
| --- | --- | --- |
| | | BY POST: THE IK SHOP, Swiss Post Box 100410, DE-96077 Bamberg, Germany |


SHIPPING CHARGE & TIME
Total shipping/handling charge is calculated based upon your choice of shipping method, the weight of your order, and your geographical location. You can verify the total cost before making payment.

You can order from THE IK SHOP 24 hours-a-day every day of the year and we ship your order immediately we have cleared the payment. We do everything in our power to make sure that your order is shipped as quickly as possible. Deliveries seldom take more then 20 days in Europe (EC) and 30 days to the rest of the world.

Payment of shipping between THE IK SHOP and you are a special service that is registered separately on your order. Note that we can not refund the shipping cost for any return of goods.


RETURNS POLICY
Returns of any goods purchased are subject to THE IK SHOP returns policy as set out below.

At THE IK SHOP we would like to make your shopping experience as easy as possible, we have therefore made our global returns policy very simple. If you are unhappy with any item you have purchased from THE IK SHOP (on-line or by mail orders) simply return it to us in its original condition with your Order Reference Number within eight working days of receipt and we will issue a refund for the price of the item, minus our shipping cost to you and take out a return fee of £25.00 for hand submission if the total value exceeds £50.00 per order.

We recommend that you obtain proof of posting.

For the correct return address, contact THE IK SHOP - please CLICK HERE.


TAXES & DUTIES
Depending on your country of residence, there may be additional taxes or duties added to your order that aren't reflected in our pricing. Contact your local Customs office for those charges. Additionally, some countries may charge an extra handling fee within that country.


OUT-OF-STOCK
If any item you have chosen is unavailable you shall be contacted via your e-mail address or by post. Out-of-stock goods marked "To Follow" on your delivery note will be forwarded automatically- you don't need to contact us again. All orders subject to availability.


DELIVERY, DAMAGE OR SHORTAGE
Any damage or shortage must be notified to the carriers and THE IK SHOP within three days of receipt of the goods otherwise no claim can be made. Refunds will be given at the discretion of the Company Management.


CONTACT
If you have any queries regarding your delivery or non-delivery, you can contact THE IK SHOP - please CLICK HERE.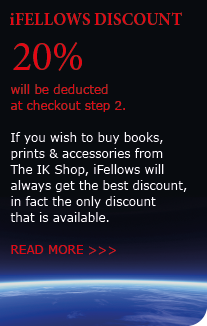 For Libraries & Bookshops