THE GREATEST RESEARCH AND PUBLISHING PROJECT EVER -
on the chosen few who came to be known as the LINNAEUS APOSTLES. During the 18th century, the Swedish naturalist Carl Linnaeus (1707-1778) was to inspire 17 of his scholars to travel to distant corners of the world to document local nature and culture. They travelled on their own or with expeditions across land and sea - their travels covered every continent between the years 1745 and 1799.
Although Linnaeus and some of his apostles are known internationally, several of the apostles are relatively unknown despite their global pioneering work in the service of science and mankind. The publication of their journals - several of them now made available for the very first time - will for a long time to come stimulate fresh research, new thinking and not least provide exciting reading about cultures, landscapes and people of a bygone era.
DISCOVER THE WORLD
WITH THE LINNAEUS APOSTLES

The publication of a major international series of eight volumes - in all 11 books and over 5,500 pages - which has been in preparation since the late 1990s under the overall title of The Linnaeus Apostles - Global Science & Adventure. All the accounts of the apostles' journeys to every continent have been published for the first time in English; those of the apostles who left no travel journals are described through their correspondence or other sources. In the introductory and concluding volumes world experts in various subject fields will provide accounts of the 18th century, of Linnaeus, of travelling and the hardships of field work, together with biographies and an index covering approximately 5,500 indexed printed pages, resulting in around 150,000 specific search terms and a considerable number of cross references or references to modern biological nomenclature.
CONTENTS AND CONTRIBUTORS INCLUDE AUTHORS
FROM THE 18TH CENTURY TO MODERN TIMES
All the 17 apostles' complete texts, illustrations and maps have been published in the oeuvre mainly based on the original journals and, as an alternative where no such exist, previously printed old material or correspondence is used. This is the very first time this interesting and important material - about bygone horizons - is made public in its entirety; to the joy not only of interdisciplinary researchers into natural and cultural history, but also of everybody with a general interest in these subjects.
Even though the main authors of the six volumes of this oeuvre (Vol. 2-7) are THE 17 APOSTLES (C. F. Adler, A. Afzelius, A. Berlin, J. P. Falck, P. Forsskål, F. Hasselquist, P. Kalm, P. Osbeck, P. Löfling, D. Rolander, A. Rolandsson Martin, G. Rothman, D. Solander, A. Sparrman , C. P. Thunberg, O. Torén and C. Tärnström) we also present a number of leading scientific writers (G. Broberg, R. Edberg, U. Ehrensvärd, A. Ericsson, G. Eriksson, K. Grandin, V. Hansen, S. Helmfrid, C. Linnaeus, B. Nordenstam, H. Smethman, P. Sörbom and S. Sörlin) in the introductory (Vol. 1) and concluding (Vol. 8) volumes. Volume 1 (INTRODUCTION) will be the descriptive volume. Here the reader will get a deeper understanding of the world in which Linnaeus and his apostles lived. The 18th century was both like and unlike our world today. It was during this era that the modern world first saw the light of day.
The concluding VOLUME EIGHT, entitled ENCYCLOPÆDIA, contains factual information presented in reference form (text and maps) under the following three headings: BIOGRAPHIES WITH MAPS, INDEX VOLUMES ONE TO SEVEN and i
LINNAEUS.ORG
. It is in volume eight that general facts and search facilities relating to all the volumes and
www.iLinnaeus.org
are to be found.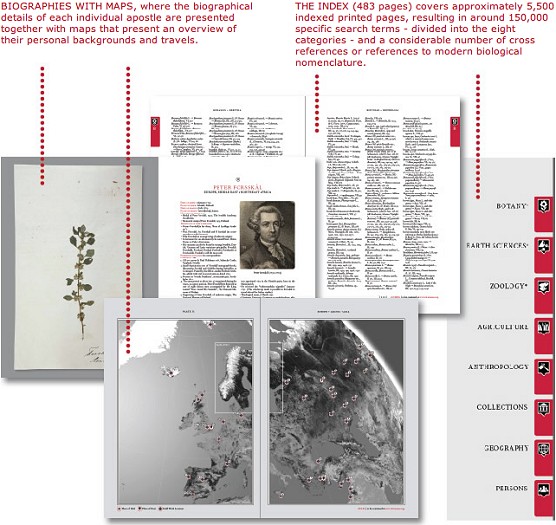 SIR DAVID ATTENBOROUGH ON THE LINNAEUS APOSTLES PROJECT



...AN IMPORTANT AND INVALUABLE PROJECT...






"Your eight volume series devoted to the work and exploration of Linnaeus' pupils sounds an important and invaluable project "

MORE Testimonials from around the world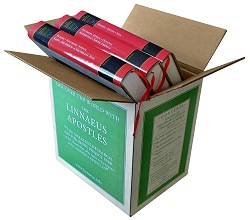 DISTRIBUTION & SHIPPING
The book parcels can only be delivered to a street or house address, not to a Post Box or c/o address. Signature will be required on delivery. The size and weight (28 kg.) of the books means that safe and good quality transport to certain countries may be relatively expensive, but we will do our best to keep such costs as low as possible. The volumes will be packed and shipped in a safe and special constructed box, 2 "green boxes" for a full set of 8 volumes, 11 books.
ORDERING THE FULL SET - 8 Volumes containing in all 11 Books.
Total shipping charge is calculated based on the weight of your order and your geographical location.

SHIPPING CHARGE per set for The Linnaeus Apostles - Global Science & Adventure (8 Volumes, 11 Books)
EU Europe £115.00
Rest of Europe, North America & Australia/New Zealand £195.00
Rest of the World £300.00
Purchase The Standard Edition, 8 Volumes, 11 Books:
Price: £590.00 + Shipping
Purchase the Standard Edition - 8 Volumes, 11 Books with TAPA samples:
(Tapa samples to go with Volume 5, you can order two genuine handmade Tapa cloth samples (white and patterned) from Tonga to be glued in at the specified place in the Volume. Instructions will be included. £50.00/set)
Price: £640.00 + Shipping