Hi there!
With the autonomous Field Station Solander's Eye in Iceland, we are shifting into higher gear for year two. In the last 12 months, the station has tirelessly observed the young landscape at Breiðamerkurjökull, one outlet glacier of the more extensive glacier of Vatnajökull in the southern part of the UNESCO stamped Vatnajökull National Park.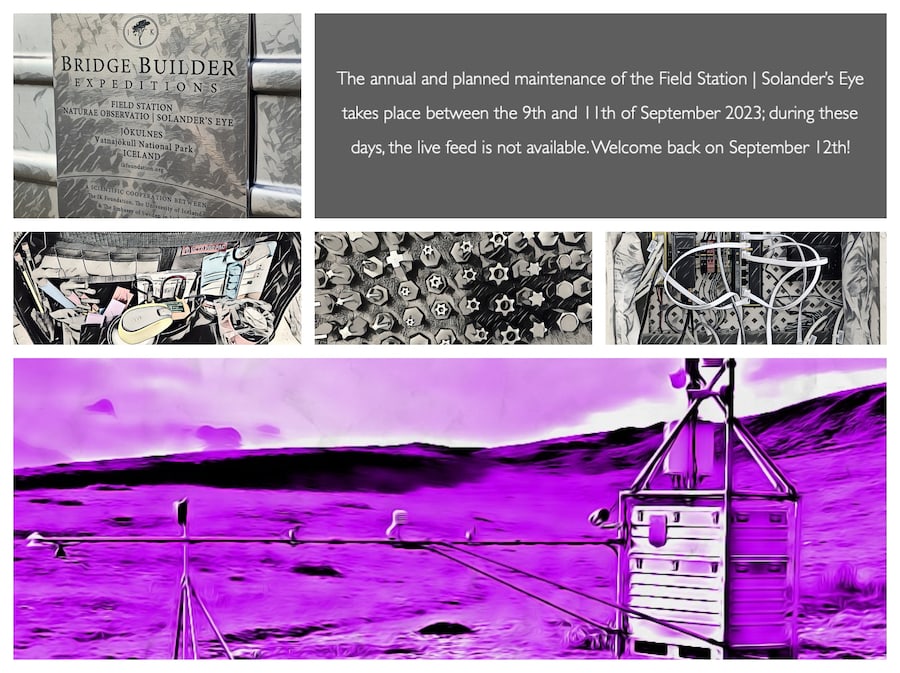 The station's many sensors document the landscape's biosphere without disturbing the local nature; data is sent directly to the station's servers and made freely available to researchers, schools and public interest under a Creative Commons license. The project is a scientific collaboration between The IK Foundation, The University of Iceland and the Embassy of Sweden in Iceland; it is named after the Swedish Linnaeus apostle Daniel Solander, who visited Iceland 250 years ago.
After one year of operation, the station needs to be reviewed in the field for annual maintenance, while servers working in the background also receive an update. So, for a short period between September 9 and 11, the Live feed site will be off, but the data collected will be saved and available afterwards, except for a few hours when the entire station needs to be off.
In addition to the annual maintenance, as every detail of the entire station is reviewed, new cameras, WiFi, Bluetooth equipment and climate sensors will also be added. In the station's interior, where all the technology is "tied together", the ventilation will be improved to meet the unusually warm summer days that sometimes cause some inconvenience to sensitive devices.
Solander's Eye is an interdisciplinary enterprise with many different projects involved. The University of Iceland's various departments have welcomed new and young researchers using the station's data from unique perspectives. Overall, interest in the project comes from many countries around the world. It is fascinating to imagine that a field station that quietly works around the clock from its one square meter large area links numerous people, knowledge and thoughts – we expect to reach the highest gear in the next two years – welcome to participate!