Hi there!
The beauty of long-term quality and in-depth knowledge is that it continues to be used and admired. An evidence for this being one of The IK Foundation's first published books in the Swedish language, back in 1992 with the title – "Textila Kuber & Blixtar: Rölakanets Konst- och Kulturhistoria" ["Textile Squares and Zigzags: The Art- and Cultural History of Double Interlocked Tapestry"] by textile historian Viveka Hansen.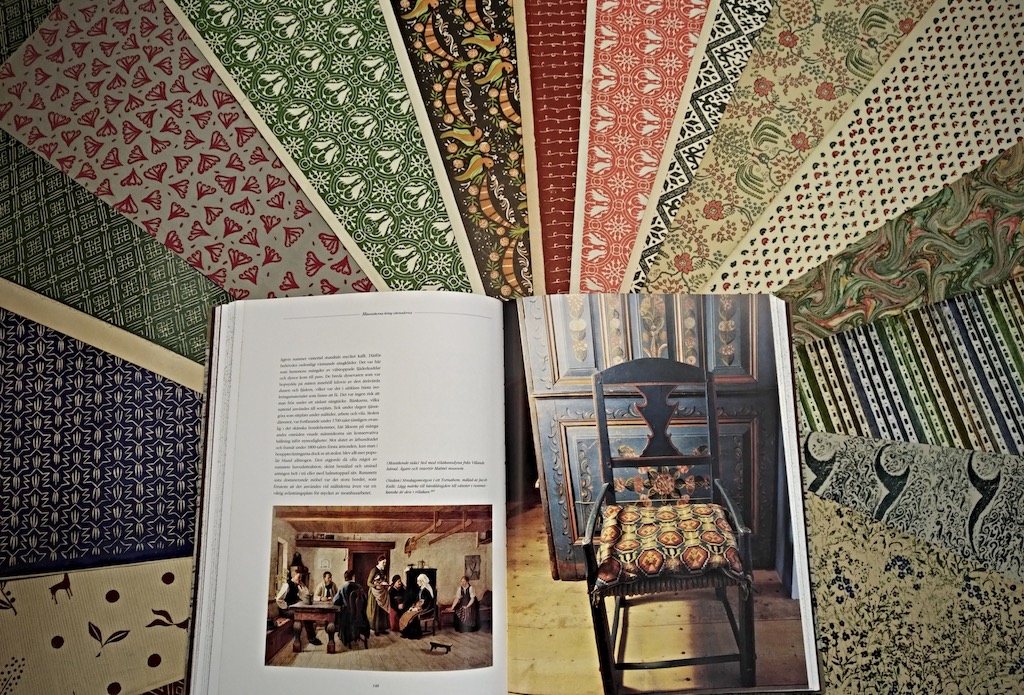 A two-page spread of the book "Textila Kuber & Blixtar - Rölakanets Konst- och Kulturhistoria" along with a selection of cover papers to be used for the hand bound final limited edition.
---
This monograph in folio size (296 pages) was based on many years of inventory and documentation in textile public as well as private collections all over the north of Europe. The edition of 1,400 copies became not only an important reference work in libraries and collections around the world, but also came to be a source of inspiration for the in-depth knowledge to the initiated, weavers, dyers and textile historically interested!
At a book launch at Hatchards Booksellers in London 1996, the book "Swedish Textile Art" was presented, which was based on the first book of the same subject. Accompanied by exhibitions in both Europe, North America and Asia.
"Textila Kuber & Blixtar - Rölakanets Konst- och Kulturhistoria" is still very much in demand, not least because of its seminal research, detailed content and extensive illustrations as well as drawings of each and every known pattern of this weaving technique. This is of course very rewarding for the author and publisher alike. Some time ago, in IK's storage we also rediscovered a forgotten box of unbound limited edition copies of the book.
These, the absolute final copies of the original book, will now be bound by our master bookbinder Majgrens Book Bindery in København, Denmark. Where the author and responsible for The IK Workshop Society department iTEXTILIS, Viveka Hansen has chosen a rare selection of patterned papers, to be used for this additional limited edition of the book. Majgrens' stock is unique and contains forgotten paper from different parts of the world, some of them 75 years old.